HOW WEIGHTED BLANKETS WORK-
THE SCIENCE BEHIND LEVIA
Fall asleep relaxed and wake up refreshed after a good night's sleep - weighted blankets make it possible: placing a weighted blanket on your body applies gentle pressure, promotes deep relaxation and can therefore noticeably improve the quality of your sleep.
And although this sounds almost a little too good to be true, the beneficial effects of a weighted blanket can be explained in an absolutely rational and comprehensible way - based on scientific findings as well as many years of practical experience.
Discover the secret of restful sleep and learn more about the science behind LEVIA weighted blankets below!
THE SUCCESSFUL USE OF THERAPY BLANKETS IN MEDICINE
Weighted blankets (also called heavy blankets or sensory blankets) are actually nothing new, but have been used successfully in the medical-therapeutic context for many years.
They have become firmly established as so-called therapy blankets, especially in hospitals, where they are used for supportive treatment of a wide variety of physical and psychological complaints - both in adults and children.
Classic areas of application for weighted blankets are, for example:
Sleep disorders (difficulty falling asleep and staying asleep)
SIMPLE & SMART: THE EFFECT OF WEIGHTED BLANKETS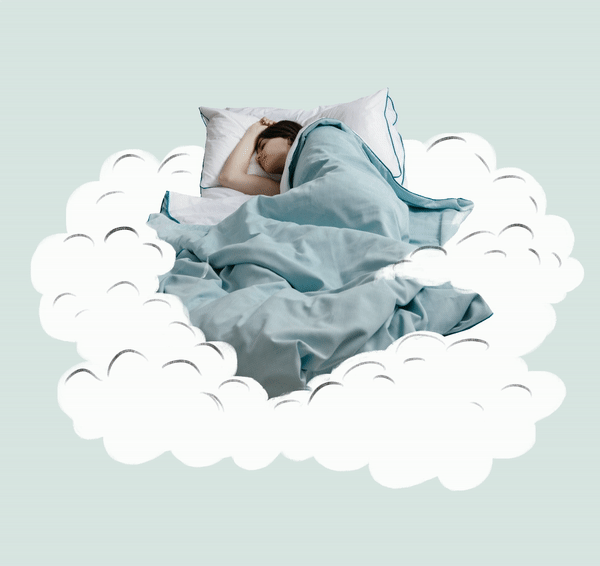 According to scientific findings, the effect of weighted blankets is based on a simple but effective principle - the so-called "Deep Pressure Touch Stimulation" (DPTS for short).
What is meant by this is nothing other than a gentle and even deep pressure of weight on the body that leaves a long-lasting feel-good effect. Just as you know it from a loving, intimate hug.
According to studies, there is a direct link between DPTS and our hormonal system - more specifically the hormones melatonin, serotonin and cortisol - which ultimately also influences the quality of our sleep.
What happens in our body through DPTS?
Mit DPTS lässt sich dieser Entwicklung aktiv entgegenwirken: Denn durch den Tiefendruck wird unser vegetatives Nervensystem aktiviert, was eine direkte Ausschüttung von Serotonin bewirkt, dem sogenannten "Glückshormon". Es löst in uns eine unmittelbare Welle des Wohlbefindens aus und wir fühlen uns entspannt, sicher, geborgen und ein bisschen "wie auf Wolken".
Zudem ist Serotonin ein wichtiger, unverzichtbarer Baustein für die Bildung von Melatonin, dem Schlafhormon, welches uns angenehm müde werden lässt. Erst mit genügend Serotonin ist unser Körper also überhaupt in der Lage, ausreichend Melatonin als Basis für einen entspannten Schlaf zu produzieren.
Diesen Effekt macht sich die LEVIA Gewichtsdecke zu Nutze, indem sie durch Deep Pressure Touch Stimulation (DPTS) gezielt die Produktion von Serotonin und Melatonin ankurbelt, die für einen erholsamen Schlaf verantwortlich sind. Gleichzeitig wird durch die Serotoninausschüttung der Cortisolspiegel in Schach gehalten. Stress, Ängste und innere Unruhe fallen ab, was einen einen tiefen und entspannten Schlaf ermöglicht.
HOW THE BODY'S HORMONES REACT TO THE WEIGHTED BLANKET




Holistic Deep Relaxation & Hormone Balance through DPTS
"The DPTS technology of weight blankets provides a holistic deep relaxation of body and mind:
Muscles, tendons and joints can release any remaining tension from the day's events, regenerate optimally and a hormonal balance is maintained. At the same time, the cuddly quality of a heavy blanket prevents restless sleep caused by frequent turning and you feel comfortably hugged all night long.
So you wake up refreshed in the morning and can start the day full of energy!
WEIGHTED BLANKETS
IN SCIENTIFIC RESEARCH
Studies are an essential basis for scientifically explaining the effectiveness of therapy blankets. In the meantime, international research teams from the fields of medicine and science have been dealing with questions about weighted blankets and are constantly gaining new, informative insights within the framework of extensively designed studies:
In September 2020, for example, the specialist journal "ScienceDaily" published the study of a Swedish research team that examined the effects of therapeutic blankets on sleep and psychiatric disorders over a period of one year. A total of 120 participants (68% women and 32% men) had been diagnosed with a psychiatric disorder such as major depression or anxiety disorder in addition to clinical insomnia.
had the study on the effect of weight & therapy blankets in Sweden
of participants reported positive effects after 12 months
Report a significant improvement in existing limitations
Already after the first four weeks of use, the use of the therapy blanket showed less insomnia compared to the control group without a heavy blanket. After 12 months of study, the weighted blankets were effective for 92% of the participants, and 78% showed a significant improvement in their existing limitations. Even after this study period, the majority of the participants voluntarily preferred a weighted blanket for sleeping.
All information about the Swedish study in detail: Weighted blankets can decrease insomnia severity(available in 🇬🇧English)
AREAS OF APPLICATION OF
THERAPY BLANKETS
Whether for the supportive treatment of sleep problems, for physical and mental complaints or for pure prevention - the areas of application of therapy blankets are absolutely diverse and individual. Weighted blankets are also being used with great success by more and more people for improved regeneration in professional and amateur sports, as well as for increasing personal well-being:
Sleep disorders & sleep problems
Stress & inner restlessness
Parkinson & Restless Legs