Explore our blanket cover
MADE OF FLANNEL
Perfect for the cold winter nights
NEW: The LEVIA cover made of precious flannel provides warm nights on cold winter days.
The blanket cover made of 100% natural cotton was developed exclusively for the LEVIA blanket. It shines with its excellent design and high-quality workmanship. With the warming cover made of fine flannel, you will never have to miss your LEVIA blanket again.



The Flannel Cover IN DETAIL


High-quality CRAFTSMANSHIP
Special attention is paid to the fabrics' quality and workmanship in the production of covers made of precious flannel. The warming covers are therefore manufactured exclusively for LEVIA by a traditional specialized company from Germany.

The LEVIA flannel covers are available in three colors and fit seamlessly into your bedroom design. The soft cotton fabric has a light grain, which completes the cover's classic and simple design.
Are you curious how the weighted blanket from LEVIA feels like?
Test the LEVIA blanket without any risk - easy and uncomplicated!
We will take care of the shipping cots for all shipments within Europe and Switzerland
You will have 30 days & nights to sleep with your new LEVIA blanket. If LEVIA won't improve your sleep quality, you will get your money back. Guaranteed!
You can contact us anytime, if you should encounter any kind of issues with your new sleeping aid. Just write us and we will solve whatever keeps you awake at night.
YOUR PERFECT COMPANION FOR THE NIGHT
With the Oeko-Tex Certificate, we ensure that only skin-friendly and non-toxic materials are used in producing the LEVIA cover. The high-quality flannel-cotton fabric not only feels wonderfully soft on your skin but also has an immediate warming effect at night.

The cover can be easily attached to the blanket so that it does not slip during the night.
12 loops inside the blanket can be tied to the interior blanket's eyelets to ensure a secure hold.
All LEVIA products are produced in Europe. The flannel - cotton cover is manufactured in Portugal and processed in Germany. In addition, LEVIA does not use plastic for packaging - all LEVIA products are delivered in environmentally friendly cotton bags.
LEVIA FLANNEL COVER IN A NUTSHELL
Fabrics: 100% Cotton (Flannel weaving)

Attribute: Cuddly soft & warming

Colors: Grey | Silber | Blue

Care: Machine washable up to 60°C
WHAT OUR CUSTOMER THINK ABOUT LEVIA
Soft, warm, cozy, just unbelievable
The new flanel covers are perfect for the colder days. The fabric is very soft and warm. At first I could not believe that this cover was able to warm me enough for the colder nights. But together with the weighted blanket it makes a perfect pair. Nights are warm and cozy and you wake up energized, even in wintertimes. The covers are packaged in nice cotton bags and the shipping was very fast.
The LEVIA blanket cover is available with two different fabrics and seven different colors.
Cotton:
Climate controlling and cooling fabric made of pure cotton. Available in Black/White, Blue/White, Gold/White and White/White.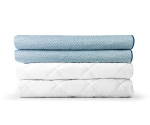 Flannel:
Soft and warming fabric made of high quality cotton-flannel fabric. Available in Grey, Silver and Blue.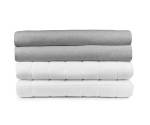 You can easily order your LEVIA Products using the following payment methods:
PayPal

Credit Card Payment

Sofort (Bank Transfer by Klarna)

iDEAL

EPS Payment

Bancontact
All LEVIA Products get shipped from our warehouse in Germany via DPD and DHL.
The shipment within Europe is free. Customers from Switzerland can also order custom-free from www.leviadecken.ch (Available in German)
If you need to return your blanket, we will ask you to ship them by yourself to our warehouse.
Important: For shipments outside of the EU, additional custom fees might be charged by the recipient country.